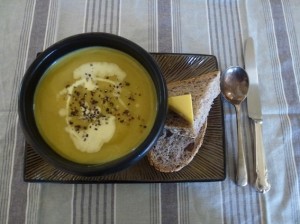 This recipe transforms an under-rated winter vegetable into a warming meal.
½ Head of Cauliflower, cut into florets
3 Medium Potatoes, chopped
2-3 cloves garlic, crushed
5 Cups vegetable stock (I use two stock cubes and 5 cups of water)
2 tspn Curry powder
1 tspn cumin seeds
1 can cannellini or butter beans
Heat a large saucepan over a moderate heat. Add a little oil and sauté the onions until soft (8-10 minutes). Add the crushed garlic, cumin seeds and curry powder. Cook for a further 30sec-1minute until you get a rich, gorgeous curry fragrance.
Add the cauliflower, potatoes and vegetable stock. Go easy on the salt and pepper, best to add at serving as some stocks can be very salty!
Simmer for about 30 minutes until the vegetables are nice and soft. Drain and rinse the beans and add to pot. These give the soup a gorgeous silkiness but can be omitted if you prefer.
Remove from heat and blend until smooth.
Serve with a dash of cream, salt and cracked pepper to taste, and some warm wholesome bread.